I wanted to share insights with you about two fun blog hops, hosted by some very creative blogs, which are currently going on:
Island Batik
is hosting "
Summer in the Country
" blog hop, with inspirational and beautiful quilting projects and yummy summer recipes being shared along the way, as well as many opportunities to win prizes.
Here is the blog hop lineup:
8/17 –
Island Batik
8/18 –
KISSed Quilts
– Part 1
8/19 –
Kauffman Designs
8/20 –
Adele Mogavero
8/21 –
MooseStash Quilting
8/22 –
Pamela Quilts
8/23 –
Freemotion by the River
8/24 –
The Patchwork Pearl
8/25 –
Fun Threads Designs
8/26 –
For Quilts Sake
8/27 –
Lemon Tree Snippets
8/28 –
Bejeweled Quilts
8/29 –
Tamarinis
8/30 –
KISSed Quilts
– Part 2
8/31 –
Beaquilter
9/1 –
Purrfect Spots Designs
9/2 –
Maria Michaels Designs
9/3 –
Mary Mack Made Mine
9/4 –
Made In Scraps
9/5 –
Happy Cottage Quilter
Jacque of Lilypad Quilting is hosting the annual
Pets on Quilts Show
. This delightful event is open to bloggers and non-bloggers to take share pictures of their pets on their quilts, or share a animal theme quilt. There are oodles of ways to win many amazing prizes, but it is also GREAT fun to click thru and see all the sharing. Certainly an event that will bring you a big smile. Entries can be shared thru August 26th (today) and voting starts tomorrow (27th).
Marian Pena of
Seams To Be Sew
is
hosting EQ7 Seasons Row-A-Long, where each stop in this fun blog hop will share a ROW quilt pattern that they designed in EQ7 and you can download a FREE PDF pattern. Along the way you will have plenty of chances to win amazing prizes, see inspirational and beautiful quilts and learn about EQ software too!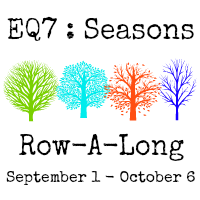 Here is the line up for this fun blog hop that stars soon: